X
Looks like you are a new visitor to this site. Hello!
Welcome to Hope For Film! Come participate in the discussion, and I encourage you to enter your email address in the sidebar and subscribe. It's free! And easy! If you have any suggestions on how to improve this website or suggestions for topics please don't hesitate to write in to any of the blogs.
You can also follow me on Twitter or Facebook.
(If you keep getting this message, you probably have cookies turned off.)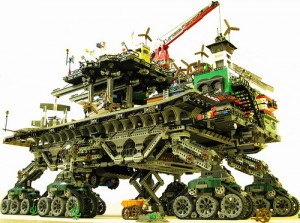 This may well be the greatest build ever! Or at least of the week… But the fact that it is invented and not based on anything else scores real points in our bowl. Check out the full Flickr file here.
You tell us: what's better, Crawling World, or one of the 17 Top Lego Creations Of All Time.Tweet

Sure everyone knows that New York City is the most beautiful place in the world.  But why stop there?   Artist Jan Vormann has been patching it up in a pretty beautiful way.
Check out his work.  He's also made Amsterdam, Berlin, Tel Aviv, amongst others a little bit better.  What are you going to do today?
You probably know Michel Gondry from either his Lego videos or solving Rubik's Cubes with either his feet or nose.  He also is responsible for popularizing "swedes" — the home made lo-fi versions of popular films.  He's been making movies and videos forever and is always great.  Here he takes a simple idea — a shirt with one pattern on the front and another on the back — and weaves a very complicated dance out of it.  Make sure to stay to the end as it gets close to glorious.
Everyone loves Legos — even faaanncy fashion designers. Although I the customs are definitely bowl worthy, it's kinda funny how runway shows look as dull in legoform as they do in the real life too…
You can never have enough Legos in your bowl. Or at least in our bowl. Luckily the internet keeps filling it up.
Yee haw!