X
Looks like you are a new visitor to this site. Hello!
Welcome to Hope For Film! Come participate in the discussion, and I encourage you to enter your email address in the sidebar and subscribe. It's free! And easy! If you have any suggestions on how to improve this website or suggestions for topics please don't hesitate to write in to any of the blogs.
You can also follow me on Twitter or Facebook.
(If you keep getting this message, you probably have cookies turned off.)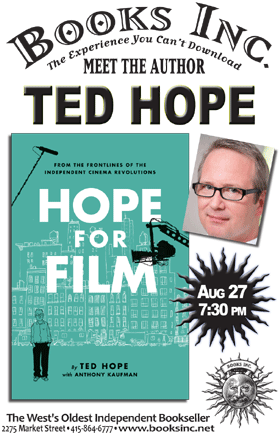 I hope we never run out of things that we get to do for the first time. Even more, I hope each of them is as exciting as this next one will be for me. I have never given a bookstore reading before, but I am going to do one very soon.
That's why I write now: to invite you to the first bookstore reading of my first book.  It will be on Tuesday, August 27th at 730 PM at Books, Inc. in San Francisco at 2275 Market Street.
I must confess: I am a tad nervous. [...]
Check it out:
"Ted Hope's new book "Hope for Film" is part memoir, part manual, part manifesto"Tweet